Family History Links
Family History Links
The following are links to webites that have family genealogy information.
Favorite Sites
The Meller-Weicht Family Home Page
This site will take you to information regarding both my husband's and my side of the family. Whether you are looking for Boor's, Weicht's, Wertz's, Wilkinson's, Barram's, Heard's or Jackson's, this will be a great place to start.
This is a site for genealogy searches and it is all FREE. So take advantage of it and see where it leads you. It covers a lot of territory and is run by volunteers. If you are so inclined, you could even become their next volunteer - they are always looking for good help.
Can't find your ancestors? Search for your family origins on Olive Tree Genealogy! Free Ships' Passenger lists, family surnames, church records, military muster rolls, census records, land records and much more will help you find that elusive ancestor.
Ancestors of Teresa Ann Meller
This shows twenty generations of my family tree. If you would like to see this, please email me and I will send you the information.
http://trees.ancestry.com/pt/pedigree.aspx?tid=9024&pid=-2146109534&pg=2 - this is the link to the Meller Family Tree that I have on Ancestry.com.
This is a great place to begin searching for your family. Even though it is not a totally free site, there is a lot of information that is available at no cost. There is census information; birth, marriage and death information; publications; newspapers; obituaries - an endless number of records for finding information. You can build your own family tree on the site and can share it with others. You can view family histories that others have put online. You can find information around the world to help you with your genealogical search.
This site will show you one of the best family tree programs on the market. There is a free downloadable program as well as an upgrade deluxe version that is available for a fee. I have been using this program for about two years now and it has been a joy to use.
This is a site where you can possibly find loved ones. It is a place where you can visit your loved ones, especially if they are in a cemetery that is far from where you live. You can send virtual flowers and notes to your loved ones as well as other people's loved ones. You can add information to findagrave for others to see. You can even look up famous people who have passed away and learn a little bit more about them or send them virtual flowers and notes as well. It is even a great place to look up historical figures. When you add your own loved ones to the site, you can add pictures, bios, and gravesites.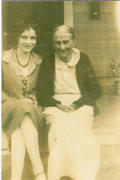 Search Engines

Cyndi's List of Genealogy Sites on the Internet
Cyndi's List provides oodles of sites to search your family genealogy.
AllSearchEngines.Com --This handy website lists all the major internet search engines, specialized (topic) search engines (SE's) and web directories. There are categories for finding news, images, people, jobs, and businesses, as well as many other subjects.

">GenCircles
GenCircles is a great place to find family history information. Check it out.
Have Fun!